Executive Summary
√The Fed hiked rates but was seen as indecisive in fighting inflation
√While ETH holders selling at a loss, there is no panic in the market
√Global crypto market cap at $1.66trn, this compares to tech stocks: Apple $2.6trn, Microsoft $2.0trn, Alphabet $1.5trn, Amazon $1.2trn
√The NFT market (top 100 projects) dropped -24% week-on-week
√Terra lost $5.4bn in TVL week-on-week, now at $23.7bn
√BIG3 basketball league, a popular basketball league founded by legendary rapper Ice Cube, issued NFTs for 12 of the teams
√Instagram to support NFTs on Ethereum, Polygon, Solana, and Flow
√Under Armour to mint NBA Warriors' Stephen Curry-inspired NFTs
Digital Asset Ecosystem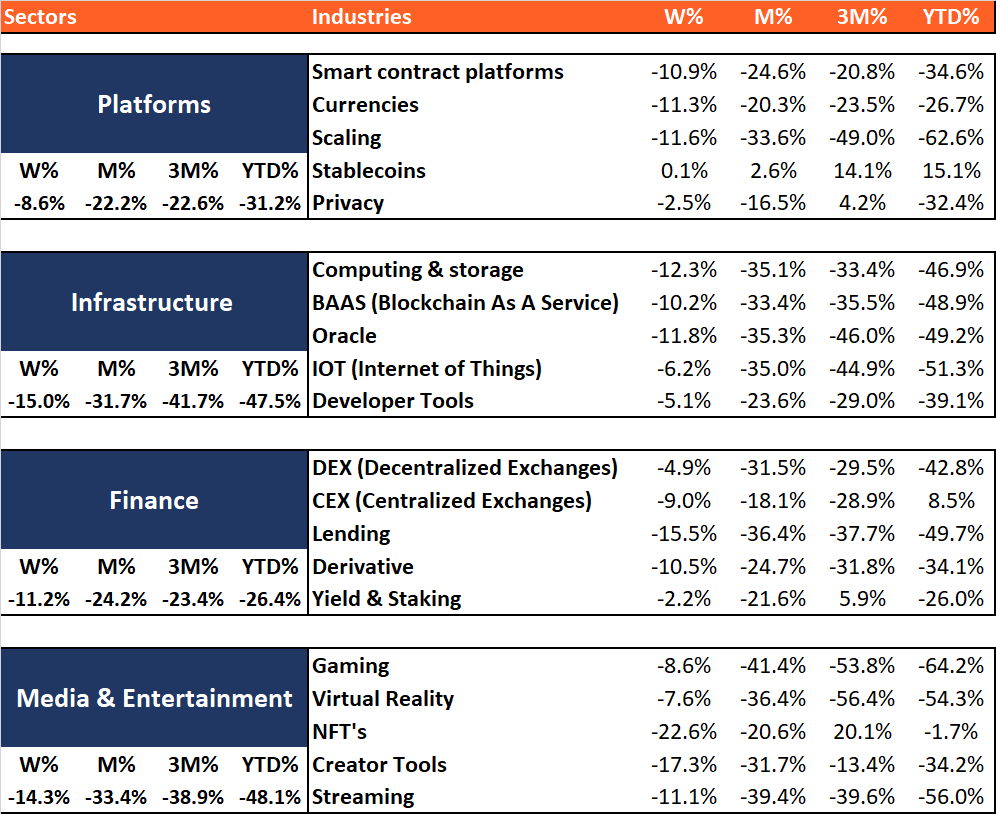 market watch
| Token | Price | 7D | YTD |
| --- | --- | --- | --- |
| BTC | $34066.36 | -11.5% | -28.3% |
| ETH | $2523.17 | -11.1% | -33.1% |
| BNB | $358.61 | -8.0% | -32.0% |
| XRP | $0.57 | -6.9% | -32.2% |
| ADA | $0.74 | -5.1% | -45.4% |
| SOL | $75.82 | -15.5% | -57.0% |
| LUNA | $62.56 | -24.7% | -30.0% |
| AVAX | $52.39 | -12.0% | -54.1% |
| DOT | $13.43 | -13.2% | -53.0% |
Sources: Coinmarketcap, as of May 9, 10AM, 2022
Traditional Markets
| Name | Level | 7D | YTD |
| --- | --- | --- | --- |
| SP500 | 4123.34 | -0.3% | -14.0% |
| 10Y UST | 3.123 | +5.4% | +91.8% |
| DXY | 103.88 | +0.4% | +7.9% |
| WTI | 109.39 | +4.3% | +43.9% |
| Gold | 1878.20 | +0.9% | +4.4% |
Source: Yahoo Finance, as of May 9, 2022
Macro
Last week, the FOMC hiked interested rates by 50bps, as expected, and indicated that another 2x 50bps, followed by an additional 2x 25bps should be in the cards during the next few FOMC meetings as inflation continues to surprise on the upside.
Fed Chair Powell ruled out a 75bps hike during future meetings. While this was initially seen as 'dovish' and bullish for risk assets, the market reacted negatively as the FOMC still does not seem decisive to solve the inflation problems. The unwinding of the Fed's balance sheet has also started rather slow with just $47.5bn per month vs. an expectation of $95bn.
As the Fed fails to aggressively fight inflation, the expectations for a prolonged hiking cycle have increased with prolonged pressure on risk assets. The market would have preferred an aggressive move to put inflation back into its box and move on, instead, the Fed appears to buy time.
Inflation is currently driven by a combination of the lagged impacts of the Trump tariffs, excessive stimulus from the 2019 covid monetary and fiscal support, higher energy costs due to the lack of energy exploration investments and the current Ukraine/Russia conflict as well as the on-going supply disruptions due to Covid lockdowns in China. In overall, the inflation outcome remains unpredictable and the FOMC's hesitation adds to the uncertainty.
The market will now focus on the next CPI prints, FOMC members' speeches and statements as well as the FOMC meetings on June 15th and July 27th.
Flow Trading
We are still surprised by the lack of liquidations. While the capitulation ratio for Ethereum is the highest since Nov 2018 with 3.4x of the transactions in the market being executed at a loss relative to a profit, we have not seen a spike in long liquidations as we have seen during the April correction.
Exhibit 2: Total Liquidations Across All Exchanges for ETH (vs. BTC price)

Source: coinglass, May 9, 20222
Either a large-scale capitulation is still coming, or holders are confident about Ethereum's medium-term outlook. While the Bitcoin market cap has declined to $650bn, the number of active addresses has remained flat (717k). This is another sign that there is no panic in the market and rather holders are willing to wait out the current correction.
As mentioned during the previous weeks, the lack of volatility spikes argues for an orderly correction and a continuous maturity of the market. Eventually, the compression of the volatility spread between digital assets and traditional markets (Nasdaq) will invite more institutional players.
We also mentioned previously that we prefer Bitcoin > Ethereum outperformance as the market goes through the Fed's inflation-fighting exercise. Potentially what is more important for the future price development of Bitcoin is the Ukraine/Russia conflict as it highlights the valuation proposition that Bitcoin offers as an alternative value proposition outside of governments (Starlink).
Exhibit 3: Ethereum / Bitcoin Ratio has Slightly Corrected (BTC > ETH)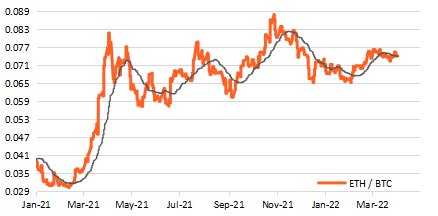 Source: IDEG Research, May 9
State of the Digital Asset Market
Overall: The global crypto market cap today is $1.66trn, a -3.3% change in the last 24 hours and -7.6% during the last 1 week. Total crypto trading volume in the last 24h was $114.9 Billion (an increase of 45.1% last 1wk). Bitcoin dominance is at 39.3%. Total Value locked (TVL) stands at $184.8 Billion, this is a decrease of -1.76% (24h) and -5.9% over the last 1 week. TVL is currently below its 20-day MA ($205.5bln) -> this is negative.
Revenue creators (5d, in $mln): Ethereum $93, Uniswap $14.2, Binance Smart Chain $8.3, Convex Finance $7.7, PancakeSwap $7.1, Lido Finance $7.3. Revenue creaters (1m): Ethereum $639.2, Uniswap $72.7, Binance Smart Chain $45.7, Convex Finance $40.7, PancakeSwap $38.3, Lido Finance $35.1.
Exhibit 4: Total Value Locked (TVL) vs. 20-day Moving Average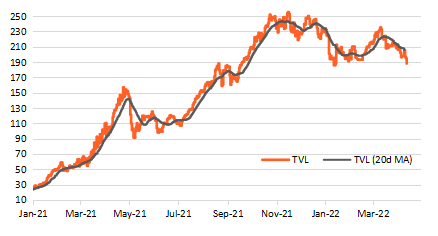 Source: Defilama, IDEG Research, May 9, 2022
The NFT market cap stands at 3.52mln ETH or $8.95bn (top 100 projects), a decrease of -23.6% over the last 1 week.
(1week) Floor Price change largest NFTs: Bored Ape Yacht Club (-23.8%), CryptoPunks (-6.6%), Mutant Ape Yacht Club (-26.6%), CloneX (-15.3%). (1-week) Floor Price change: Meebits (27.5%), Doodles (20.1%) -- Worst: 3Landers (-35.9%), Cool Pets (-43.8%).
Exhibit 5: Top NFT Projects Floor Price Change During Last 1 week

Source: Coingecko, IDEG Research, May 9, 2022
DeFi
TVL on lending platform Anchor dropped -18% during the last 5 days alone. The Anchor protocol has adjusted its APY from 19.4% to 18.0% after the governance vote to implement a semi-dynamic interest rate was passed a month ago and users still question how they will achieve these rates.
Similarly, Terra (Luna) lost $5.4bn in TVL (now at $23.7bn) during the last 1wk as Luna dropped -20% in 24h due to $285m supply of UST which caused the market to worry about a UST dollar peg break. While TVL has held steady between the $26-$32bn range during the last 2 months, TVL has not kept pace with the market cap, signaling that the rally (in Luna) might not have been sustainable as the ratio kept dropping since the early March peak (purely using the TVL/mkt cap measure).
A change in CRO's credit card policy caused a -30% decline in the CEX token with Chronos blockchain's TVL down -20% since May 3rd.
SOLANA tweaking its main blockchain mitigation to avoid network bottlenecks. The transaction volume reached six million transactions per second, overflowing individual nodes with 100 Gbps data. As a result, validators ran out of data memory, leading to a loss of consensus among them. Three steps are outlined: 1) move from its current data transfer protocol called user datagram protocol (UDP) to Google-developed quick UDP internet connection (QUIC). This allows flow control of information to avoid overwhelming. 2) introduce stake-weighted transaction processing instead of its current first-come-first-serve basis. Which will promote real users rather than empty wallets. 3) introduce "fee-based execution priority," where users would have the option to add an additional fee on top of the base fee.
Lido briefly overtook Compound in TVL hovering around $20
NFTs
Coinbase has launched its NFT Beta version. Only 1,300 total users were active on Day 1, according to Dune Analysis. Only 150 transactions were made, which amounted to just $75,000 worth of ETH traded. There are many NFT trading platforms these days and Coinbase needs to up its game to convince users to switch to its platform.
Meta's Instagram will support NFTs from Ethereum, Polygon, Solana, and Flow. After plugging in wallets, users would be able to prove NFT ownership, offer to showcase them on profiles, and tag the creators as well. Also, Meta has confirmed that Instagram will not charge users for posting and sharing NFTs. With 1 billion monthly active users, and the free new NFT features, we might see huge adoption eventually, and non-NFT users might enter the space just to buy NFTs and show them on their Instagram page.
BlueChip NFT collections Doodles announced former president of Billboard, Julian Holguin, as its new CEO of Doodles (7th May). Doodles also confirmed an airdrop to Doodles holder, that can claim a dooplicator, on Twitter on 9th May.
BIG3 basketball league, a popular basketball league founded by legendary rapper Ice Cube, issued NFTs for 12 of the teams. NFT owners can get involved in team decisions, create merchandise, and interact with league officials. This demonstrates how NFTs based on Ethereum can fractionalize the ownership of the league's franchises. The collection of each team has 1,000 NFTs in total, with 25 tier "Fire" for $25,000 each and 975 tier "Gold" for $5,000 each. All 25 Fire-Tier NFTs of Team Tri State were bought by tech entrepreneurs Sunny Deep, Vinny Lingham, and Moonbirds CEO Kevin Rose. While all 25 Fire-Tier NFTs of team Bivouac were bought by Snoop Dogg and PayPal co-founder Ken Howery. Gary Vaynerchuk bought 25 all Fire-Tier NFTs of Team Triplets. This decision and embracement of NFTs as ownership rights is showing the practical use of NFT technology, and the adoption of NFT in sports leagues.
News
Meta's Instagram to support NFTs From Ethereum, Polygon, Solana, and Flow
UST stablecoin struggles to maintain $1 parity amid crypto market turbulence
WisdomTree positions its forthcoming crypto wallet to serve 'the next 2 billion'
Binance disables derivatives services in Spain, seeks regulatory approval
Under Armour to mint NBA Warriors' Stephen Curry-inspired NFTs
Argentina's Central Bank prohibits Banks and other financial institutions to offer digital assets and crypto-related services.
Robinhood lists Grayscale Bitcoin and Ethereum Trusts on its platform.
Colorado lawmakers advance bill to study the use of security tokens for raising state capital
Google: many customers asking us to increase our support for Web3 and Crypto technologies
Amber Group raising $200m (potential valuation $5bn-$8bn vs. $3bn when they raised in March 2022)
Revolut's new crypto head departs as it gears up for the digital assets push
Marshall Wace ($60bn asset manager) makes new hire for the digital assets team
Various sources: theblockcrypto, yahoofinance, cryptonews, May 9, 2022
Exhibit 6: Bitcoin Investor Tool: 2-year Moving Average Multiplier

Source: coinglass, May 9, 2022
Exhibit 7: Bitcoin 200-week Moving Average Heatmap

Source: coinglass, May 9, 2022